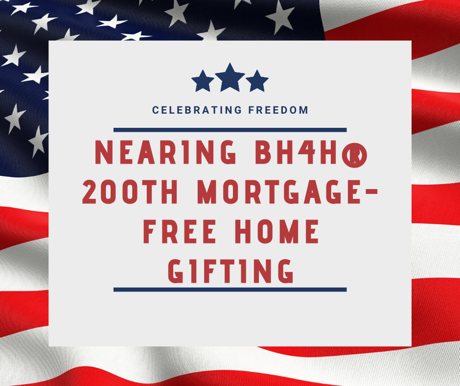 November 20, 2019, marks another incredible mortgage-free home gifting for Building Homes for Heroes®. The mortgage-free home was gifted to Army Spc. Craig Hall. in Glastonbury, CT. BH4H® is nearing its 200th mortgage-free home gifting!
"Probably the second or third greatest day of my life next to my kids being born and meeting my fiancee, this is the greatest day of my life," he said, his voice choking with emotion. "This is truly a monster gift I never thought I would ever receive. ... It's organizations like Building Homes For Heroes that step up and do things for our combat wounded veterans, for our services members who are put in harm's way and lift up our spirits and do incredible things like this. I'm beyond words."
Founded in 2006, Building Homes for Heroes® is a national non-profit, non-partisan 501(c)(3) organization.
Their mission," Building Homes for Heroes® is strongly committed to rebuilding lives and supporting the brave men and women who were injured while serving the country during the time of the wars in Iraq or Afghanistan. The organization builds or modifies homes, and gifts them, mortgage-free, to veterans and their families. It's our honor to support the men and women who have loyally and courageously served our country."
These brave men and women, once gifted with a mortgage-free home, participate in additional programs to ensure sustained success on their journey of being a homeowner.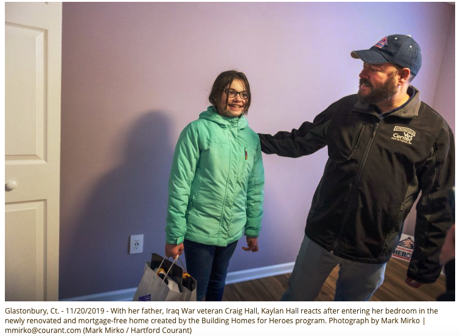 Thank you for your continued support.
* Marteka, Peter. "'I'm Beyond Words.' Glastonbury Welcomes Army Veteran to His New Home."
* One Home Every 11 Days: Building Homes for Heroes: Valley Stream, Ny
https://www.buildinghomesforheroes.org/